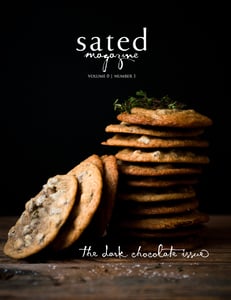 $

18.00
sated is a new independent publication dedicated to beautiful images and thoughtful writings about food. Each issue explores a single subject, such as chocolate, through recipes, interviews, stories, art, and photography. The end result is an intersection of culinary magazine and coffee table artbook. sated is a leisurely exploration into the sideways and byways of food -- its history, its meaning, and most importantly, its beauty.
The first issue of sated is the Dark Chocolate issue. It explores the chocolate-making process at a bean to bar company, reveals the best chocolate shops in the San Francisco Bay Area, compares baking chocolate brands, and more.
8.5"x11". Full color. 90 pages. Perfect bound.
Orders are printed on demand. Please allow 7-10 business days before shipping.
Sales tax is included; shipping costs are calculated at checkout.
Shipping within the US is $6 per issue, mailed USPS priority.
Shipping outside the US is $16 per issue.
For mailing insurance, please add the "shipping insurance" item to your cart.
Learn more about sated magazine at www.satedmag.com.